---
4 green web hosts for greener sites Johann Kinbbrugh Tips
---
The Internet is currently one of the largest consumers of energy in the world. The digital absorbs between 10 and 15% of the planetary electricity. In France, digital uses up 3% of total consumption, a figure that is still increasing every year. Putting the PC to sleep and deleting e-mails are a few daily gestures that help to limit this. In an eco-responsible approach, web hosts use renewable energies to power the servers.
Why choose eco-friendly web hosting?
Eco-responsible internet hosting aims to reduce or even eliminate the impact of the service provided on the environment. There are several reasons why a company chooses a green web host.
The first reason is strategic. Internet users are increasingly interested in brands advocating the preservation of the environment. By targeting pro-environmental consumers, committed web hosting companies will be preferred.
On the other hand, it may be an ideological choice to reduce the company's carbon footprint. The ecological process in this case is in favor of recycling waste and not wasting it.
The reason can also be both ethical and personal. Whether it's a business or personal platform, the site owner cares about the impact on the planet. In this perspective, the action consists in limiting the consumption of megabytes.
The reason can be professional, following a discussion between colleagues for example. Indeed, the web hosting company wants to show its commitment to the planet vis-à-vis customers. In the process, it seeks to distinguish itself from the competition and improve its visibility.
What makes a web host greener?
The solutions put forward by an ecological web hosting company are essentially based on renewable energies. For example, dedicated VPS servers operate using solar panels or wind turbines. These devices produce "green" electricity.
To limit its footprint, it is possible that ecological hosts use clean (renewable) energies to activate their infrastructures. It can be wind with wind turbines, sun with photovoltaic panels, or water with hydroelectric dams. The impact on the environment is therefore less since no fossil energy (coal) is required.
A so-called green web hosting aims to reduce electricity consumption and recover waste. Various actions are carried out with this in mind. One of them is to limit the use of air conditioning to cool the servers. On the other hand, conditioning by evaporation or with filtered outside air is more appropriate to facilitate the cooling process.
On the other hand, an internet hosting company is committed to dematerialization, waste recycling and local partners. Today, more and more web hosts are moving towards "100% green". However, few of them are truly committed to a sustainable eco-responsible solution.
For information, there are certain reliable European standards to control the commitments of web hosts vis-à-vis green energy. These include Renewable Energy Certificates (REC) or Carbon Offset Certificate (VER).
Top 4 green web hosts
More than 500 green web hosting providers are listed around the world. Their commitment is based on the use of green energy within their data centers. There are 4 in France. Here they are.
PlanetHoster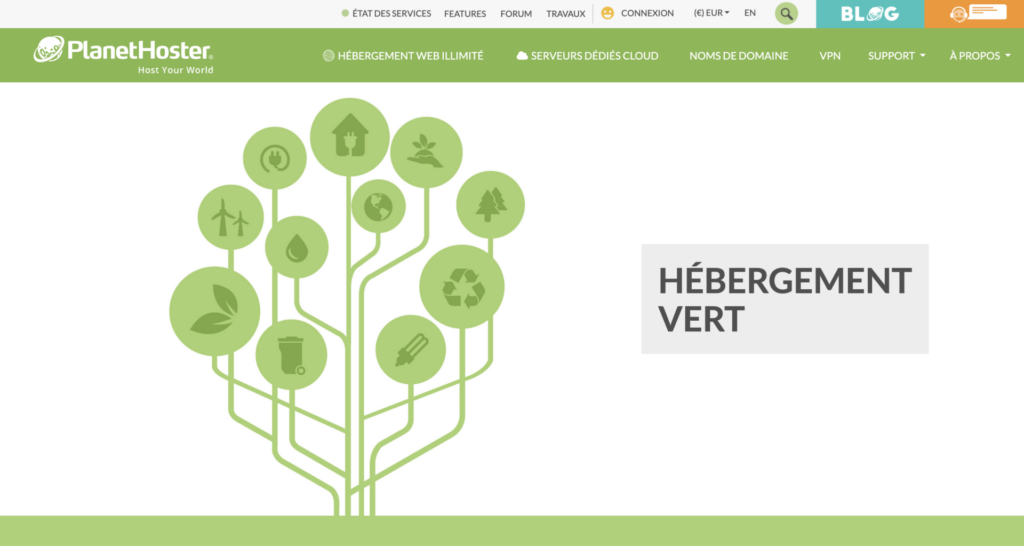 A leader in the field of info-managed internet hosting throughout the French-speaking world since 2009, PlanetHoster is based in Canada. It aims for an avant-garde main activity, that is to say more ecological (without carbon), efficient and safe. It advocates energy saving and not wasting resources.
All PlanetHoster infrastructures are powered by green energy produced exclusively by hydroelectric dams. This is particularly the case of the cooling system.
Its "DataCenter" data center works thanks to hydroelectricity. The company relies on renewable energies to develop it in France. Also, thanks to the virtual server, PlanetHoster hopes to reduce its ecological footprint.
To promote an even greener web host, the company uses LEDs to illuminate its offices. Timers are installed within the premises to improve and/or limit electricity consumption.
The Paperless Office is another leitmotiv put forward by Planet Hoster. Clearly, documents are rarely printed there. As for the paper, it is valued.
Regarding waste, it is subject to selective sorting. Also, the material is recycled, without forgetting the donations for the benefit of charities or associations. Travel outside or to the office is by bicycle or public transport.
Infomania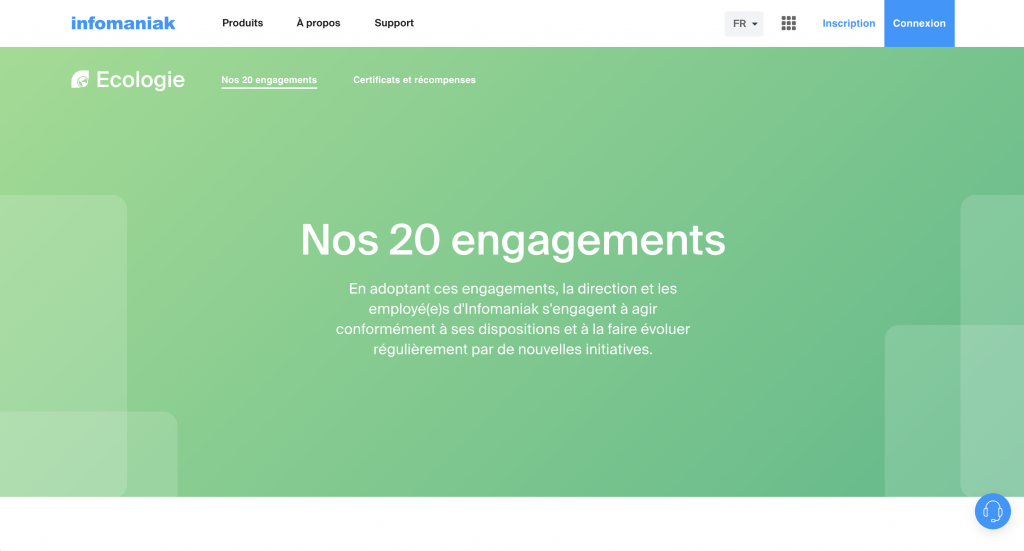 Infomaniak is another extremely well-known eco-responsible site host. All of its services are provided using renewable energy. Indeed, the electricity used contains hydraulic energy (60%) and green energy (40%).
The company has a solar power plant with a capacity of 600 kW, installed in 2022. Another is planned for its future data center. Its launch is scheduled for 2023.
At the same time, this Internet host is developing its own data centers that are not equipped with air conditioning. Its aim is to go beyond the standards in force in terms of energy efficiency.
On the other hand, many optimizations have been made by the company to reduce energy consumption. For example, data centers are cooled by filtered air from outside.
The use of ventilation has also been adjusted to the real needs of the company. As for the energy inverters, they are put on standby. All of these actions enabled Infomaniak to reduce its electricity consumption by 14.7% in 2019. Local suppliers are also preferred at Infomaniak.
Another commitment of this host, generators are at the service of the community in case of failure of the local electricity distribution network. Finally, Infomaniak is committed to reducing the production of incinerable waste by 16%, by 2023. It also hopes to produce less electronic waste.
Ex2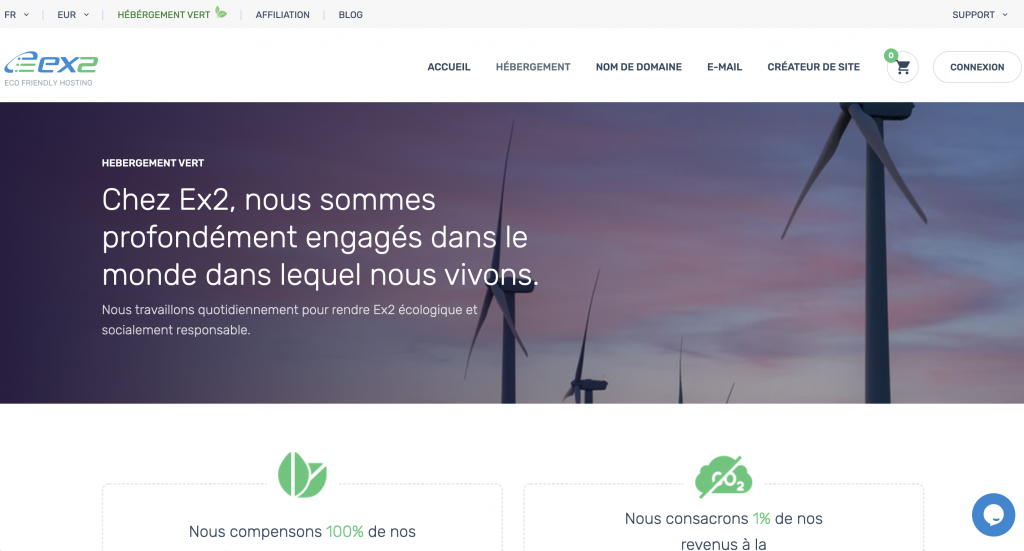 Ex2 is the third web host committed to the ecological level. It has a dual purpose. That of making the company socially responsible and ecological. With this in mind, it compensates 100% of its carbon emissions. In addition, 1% of revenue is dedicated to carbon removal.
Moreover, Ex2 joined the Stripe Climate business coalition to quickly achieve this objective. This company also collaborates with several scientific experts to develop the most effective carbon removal technologies.
Emerging technologies include waste heat and renewable geothermal energy. Clearly, the carbon will be captured from the air. It will then be condensed, then trapped underground inside basaltic rocks.
This green web hosting company decides to go green. With this in mind, it is investing in 100% ecological renewable energy to supply its infrastructures. These are web servers, data centers, desktops and laptops.
On the other hand, in collaboration with Solar Aid, it provides ecological habitats and solar lamps to people in need. Its partnership with the Green Web Foundation aims to accelerate the transition to a fully ecological web.
Other actions have also been planned for green web hosting. This involves, among other things, minimizing the use of paper within the organization. Everything is done on the screens.
In the kitchen, the mugs are ceramic. The coffee machine does not contain any capsules. Also, there is no cutlery or disposable plate. Meetings are held by videoconference to limit unnecessary travel by land or air.
In the offices, they use modern, energy-efficient computers. Their PCs run on renewable energy. Finally, employees are entitled to a loan to buy a means of transport running on electricity.
Ikoula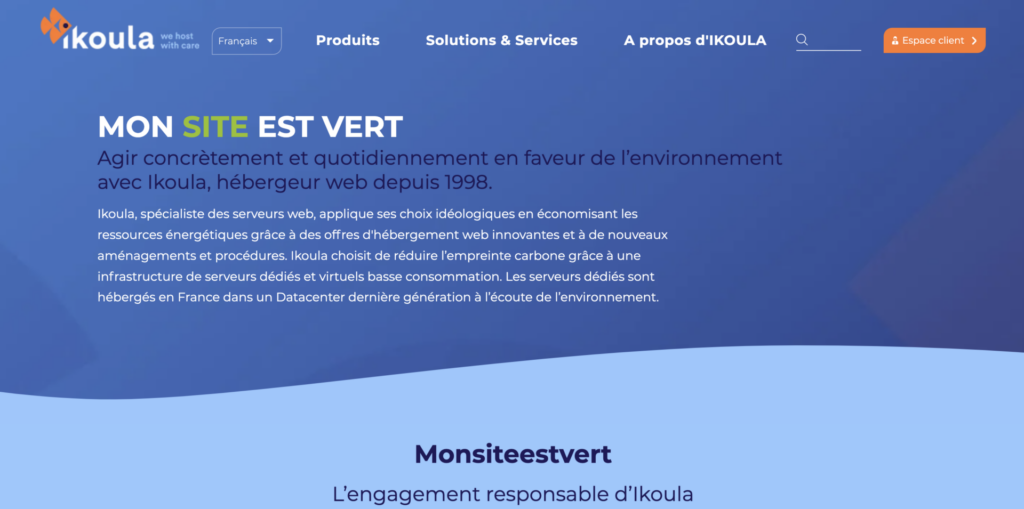 Ikoula is the latest eco-responsible web host that stands out. This company specializing in hosting web servers has existed since 1998. Its ideological choices are based on saving energy resources.
Clearly, to limit the carbon footprint, the equipment within the company includes low-power virtual servers. All this at no additional cost to customers. All dedicated servers are hosted in a state-of-the-art and responsible Datacenter in France.
In addition to saving energy, Ikoula is committed to reducing the consumption of its air conditioning. Its eco-responsible approach is also part of the recycling of rubbish. This is IT waste from servers. In addition, the ecological web host Ikoula is part of the 2002/95/EC directive, also called RoHS. The process aims to reprocess electronic and electrical equipment.
The use of entirely renewable energies is another commitment of this company. For example, the electricity used in its DataCenters comes from clean energies.
On the other hand, Ikoula also offers sustainable development alternatives. Thus, he plans to incorporate natural heat exchange. This option reduces electricity consumption. Since air conditioning needs are reduced. Ikoula is restoring its data center and infrastructure to this end. Finally, he hopes to significantly reduce carbon emissions via an innovative solution.